I have been using as part of a portable setup, the Korg NanoKEY Studio. While I would not recommend this controller for "keys", because of the click and switch feel of the keys itself, it extends the capabilities of Korg Gadget considerably. One of the best parts about using it is the Bluetooth capabilities. No cord at all, you simply turn it on and activate it in the Korg Gadget setup screen.
Very easy to use. Because it is properly mapped to all of the Korg Gadgets, there is nothing that you have to do to set it up. You simply activate it and it works!
The video above will give you a great intro into its use.
The nanoKEY Studio provides a keyboard, knobs, trigger pads, and touch pad that lets you instantly convert your inspiration into sound. It is battery operated and can connect wirelessly to iPhone/iPad or Mac/Windows. It's a compact, mobile MIDI keyboard that is easy to travel with, allowing ease of use anytime, anywhere.
Step-record as easily as typing. A keyboard with 25 backlit keys that illuminate.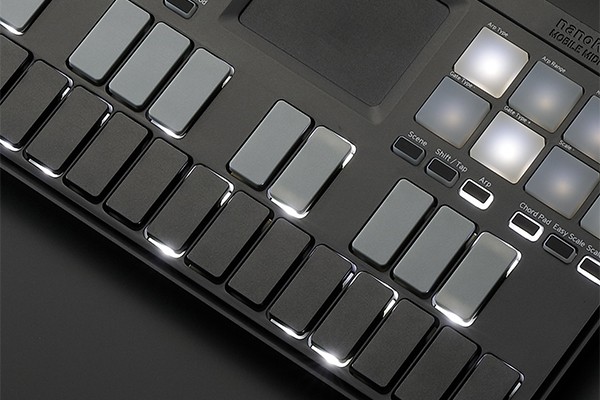 Even if you're not the most skilled keyboardist, the 25 velocity-sensitive keys allows you to step-record easily. The Scale Guide function illuminates the keys to show recommended notes in the scale, making it easier to play. This is a smart keyboard with a variety of performance modes, such as the Easy Scale function, that lets you produce musical phrases using any keys.
More freedom to produce music, via USB or wirelessly.
The nanoKEY Studio can connect not only via USB but also wirelessly. It's easy to connect to an iPad/iPhone music app such as KORG Gadget or Apple GarageBand, or to your Mac/Windows music production software. Liberated from annoying cables, you'll be free to set up your system much easier than some other products. Thanks to careful tuning, you'll enjoy low latency and high stability.
Check Out Some Of Our Other Reviews
Komplete Kontrol S88 Mk2 Unboxing, Review and Comparison
For More Product Information and Purchase, Visit:
https://www.korg.com/caen/products/computergear/nanokey_studio/
https://www.amazon.ca/Korg-nanoKEY-Bluetooth-Keyboard-Controller/dp/B01AT2AT6S