Is Omnisphere 2 The Last Plugin You Will Ever Need? If you only had one plugin to take to a desert island of programming, this might be the one that does everything
Eric Pershing is a living legend in the world of sound design. He was one of the original engineers behind the sound design in some of Roland's most famous synths, including the Roland D50, JD800 and the JP 8000.  He has built a world-renowned company in Spectrasonics and has won numerous awards for his products. Omnisphere 1 is a plugin we still use all the time at Bunker 8, so why would we upgrade to Omnisphere 2? Well, in a word, it goes beyond the power of Omnisphere 1 into places that you would not believe regarding sound design. This plugin is a total monster.
How much of a monster, how is this for specs:
• Now includes over 12,000 inspiring sounds for all types of music production
• New Interface with Enhanced Browsing and "Zooming" into deeper synthesis levels
• Audio Import – Use your audio file as a sound source in Omnisphere
• Over 400 New DSP Waveforms for the Synth Oscillator
• Sound Match™ feature instantly locates any related sounds in the library
• Sound Lock™ feature gives endless variations by locking sound aspects while browsing
• New "Spotlight EDM" library with cutting-edge, modern sounds
• Powerful New Granular Synthesis algorithm for amazing transformations
• 58 incredible FX Units, which are fully integrated and can be modulated
• Creative "Psychoacoustic" sounds from the renowned Spectrasonics sound design team
• Wavetable Synthesis – Each waveform is now a Morphing Wavetable
• ORB circular motion interface allows infinitely-shifting variations
• Full feature list is here
Pleasingly, the ethos and overall appearance of Omnisphere remains largely the same, so despite a slightly widened interface (now incorporating a slimed-down browser window), existing users will feel immediately at home. Look under the bonnet, though, and you'll soon see how far-reaching the improvements are in Omnisphere 2, with a list of new features that make it well worth the upgrade.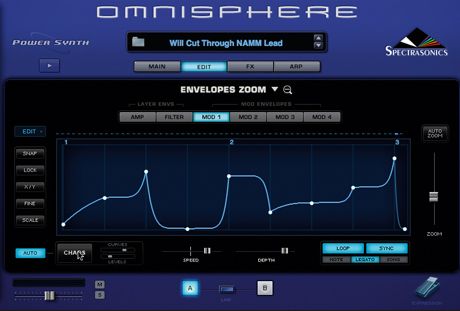 Top of the list for us was the ability to import our samples into Omnisphere 2. With Omnisphere, it was, as powerful as it was, still just a ROMpler. You cannot imagine how much the world of sound design opens up when you can import your content into Omnisphere 2 and just mess around with the effects, filters and various modulators.
One of our other favourite features, one of the things we love about Serum as well, is the ability to draw your envelope shapes. You can mangle sounds beyond recognition with that. There are a power and very unexpected pairing that occurs when you map this capability to granular synthesis. This is one of the stars of the show with this upgrade. Granular synthesis allows you to break a sound waveform into grains of sound which you then can manipulate in very significant ways. The basis of any tool of this kind of power is to allow you through a combination of accidental discovery and deep thought, really explore what makes sound design exciting. The best part? Eric and the team at Spectrasonics have done that capability one of the most accessible features of this plugin.
Arpeggiators have always been one of those things that we at Bunker 8 kind of view as a bit of a cheat. But in the case of the implementation used in Omnisphere 2, it is a significant part of the instrument itself. There are advanced features (transposition, pattern lock, speed offset, etc.) that allow you to tailor the sound significantly. When you combine that with the ability to store your waveforms and content with those arpeggios, you begin to see what we are talking about here.
There is no possible way that we can cover all the features. There is not enough time in the world to even navigate all 12,000 patches! Gulp! But if you are looking for basically the most powerful synthesiser on the market, Omnisphere 2 is likely to be it. The instrument that does it all, there is little reason why Omnisphere 2 would not be on your shopping list.